The Trolls World Tour movie is officially available for at-home collection! Currently, you can buy it on digital, with the option for 4K, Blu-ray, and DVD on July 7th! We absolutely loved this film and are so happy to have an early copy of the Trolls World Tour Dance Party Edition!
This is a partnered post. All opinions are my own.
ABOUT TROLLS WORLD TOUR
Anna Kendrick and Justin Timberlake return in Trolls World Tour, an all-star sequel to DreamWorks Animation's 2016 musical hit.
In an adventure that will take them well beyond what they've known before, Poppy (Kendrick) and Branch (Timberlake) discover that they are but one of six different Trolls tribes scattered over six different lands and devoted to six different kinds of music: Funk, Country, Techno, Classical, Pop and Rock. Their world is about to get a lot bigger and a whole lot louder.
A member of hard-rock royalty, Queen Barb (Rachel Bloom), aided by her father King Thrash (Ozzy Osbourne), wants to destroy all other kinds of music to let rock reign supreme.
With the fate of the world at stake, Poppy and Branch, along with their friends — Biggie (James Corden), Chenille (Caroline Hjelt), Satin (Aino Jawo), Cooper (Ron Funches) and Guy Diamond (Kunal Nayyar) — set out to visit all the other lands to unify the Trolls in harmony against Barb, who's looking to upstage them all.
Trolls World Tour Dance Party Edition features include:
DANCE PARTY MODE – As Queen Poppy makes her way across the lands, this on-screen experience encourages the viewer to sing and dance along as they customize their own musical journey. With sing-along and dance elements, interactive pop-ups and more, it's sure to be a world of fun!
TINY DIAMOND GOES BACK TO SCHOOL – In this exclusive original short film, journey back to school with Tiny Diamond as he tries to figure out how to be the cool kid and 'fit in'.
TROLLS DANCE ACADEMY – Compilation of How-To-Dance pieces from Dance Party Mode

Pop
Waltz
Country
Funk
KPop
Reggaeton

Plus more!
Grab these awesome Trolls World Tour Movie Printables & DIYs:
Simply click the pictures below to download the DIYs!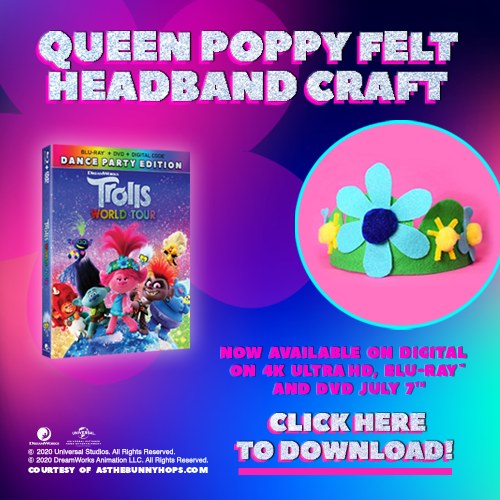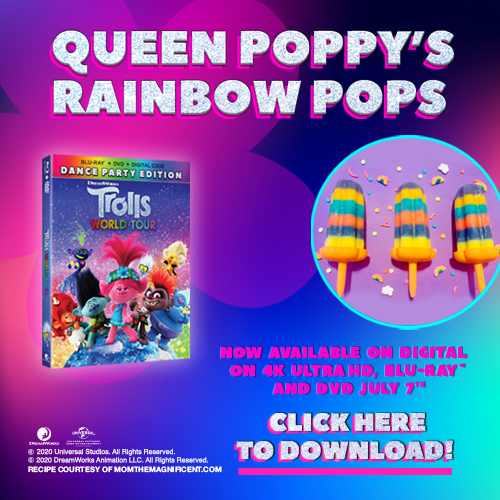 We are big fans of the Trolls movies and TV series. This film was set to release in theaters but due to Covid-19 that put a damper on the release, instead, it went straight to digital which allowed families to view it from their homes.
Everything from the animation to the star-studded cast and amazing music makes this movie a must-own!
You Are Also Going to Love: