The Secret Life of Pets 2
is now available on Blu-ray, 4K, DVD, and Digital! This adorable sequel brings back all of your favorite furry friends in a whole new adventure. This animated film is a great addition to our at-home family library. We are big fans of Illumination, who are also the creators of Despicable Me and Minions. Read on for details about the bonus content, and how you can create your own
DIY Captain Snowball Ears
!
This is a partnered post. All opinions are my own.
The Secret Life of Pets 2
"
The

Secret

 Life of Pets 2 
explores the emotional lives of our pets, the deep bond between them, the families that love them and answers the question: What are your pets really doing when you're not at home? Terrier Max (Patton Oswalt) is coping with major life changes after Katie's marriage and the arrival of a toddler, Liam. Meanwhile, Gidget (Jenny Slate) tries to rescue Max's favorite toy from a cat-packed apartment with a little help from her feline friend, Chloe (Lake Bell), who has discovered the joys of catnip. And Snowball (Kevin Hart) believes, despite the other pets' teasing, that he's a superhero after his owner starts dressing him in superhero pajamas. But when Daisy (Tiffany Haddish), a fearless Shih Tzu, shows up to ask for Snowball's help on a dangerous mission, he'll have to summon the courage to become the hero he's been pretending to be."
BONUS FEATURES ON 4K ULTRA HD, BLU-RAY
™
, DVD & DIGITAL
Mini-Movies

Minion Scouts – When Margo, Agnes and Edith return from Badger Scout camp, three of the Minions are entranced by the girls' merit badges. Their own attempt at scout camp results in attracting a bear, eating poison berries and eventually blowing up a dam, creating a massive flood. But, when they arrive back home, the girls share their badges, encouraging the rest of the Minions to try their hand at scouting.
Super Gidget – When Max is kidnapped by an army of squirrels, Super Gidget is the only one who can save him. It turns out that Max's captor is a flea with the power of mind control. Gidget must use her pluckiness, strength and smarts to save her one true love…until it turns out it was all just a dream.
The Making of the Mini-Movies – Every Illumination film is accompanied by mini-movies that are a production all their own.  Each film's directing partners will explore how the mini-movies were made.
Deleted Scenes

Wake Up – Max and Duke have a new morning routine with Liam.
Duke Explores the Farm – Duke has a funny interaction with a goat.
Snowball Karate – Snowball does his superhero warm up.

Secret

 Confessions – Dogs gather to talk about their deepest 

secrets

A Tapestry of a Tail: The Making Of – The plot of The 

Secret

 Life of Pets 2 involves multiple storylines ultimately coming together to create a larger than life tale. We talk with the filmmakers, editor and cast about the delicate dance of juggling multiple narratives in one movie.
How to Draw – Hosted by Head of Story, Eric Favela, follow the step-by-step tutorial to learn to draw Max, Snowball and Chloe
Frame by Frame: How to Make a Flip Book – In this DIY-style vignette, Head of Story Eric Favela will teach viewers about the essence of animation and how they can create their very own flip book animations at home.
Character Pods – Get a closer look at your favorite characters of The 

Secret

 Life of Pets 2 with these delightful character pods that might just give away a few more pet 

secrets

.

Patton Oswalt – Max
Kevin Hart – Snowball
Eric Stonestreet – Duke
Jenny Slate – Gidget
Tiffany Haddish – Daisy
Lake Bell – Chloe
Nick Kroll – Sergei
Dana Carvey – Pops
Bobby Moynihan – Mel
Harrison Ford – Rooster

A Party Fit for a Pet – Using stop motion animation, this step-by-step guide teaches you everything you need to know to throw the very best party for your pet!
Pops' Puppy Training School with Kevin Hart – Join Kevin Hart as he shows off his dog training skills.
Pets Yule Log – Sit back and relax in front of this exclusive The 

Secret

Life of Pets 2 themed animated 'Yule Log.'
Lyric Videos

'Panda' Lyric Video
'It's Gonna Be A Lovely Day (The 

Secret

 Life of Pets 2)' Lyric Video
The Secret Life of Pets 2 DIY
Kevin Hart, who voices Captain Snowball in the film, will make you LOL! Everything he touches seems to turn to gold. He's really funny! If you'd like to create your own Captain Snowball Ears,
click the image below to download the PDF
. This would make a great kids' craft during a Secret Life of Pets party or movie night!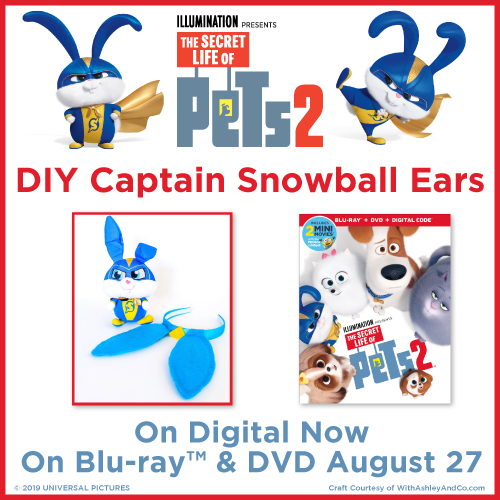 You Are Also Going to Love: