Red Shoes and the Seven Dwarfs has released on digital and on-demand with Blu-ray and DVD options available on September 22nd! This adorably funny animated film is a twist on the modern classic.
Read on for details about the new film, plus enter for the chance to win a giveaway!
This is a partnered post. All opinions are my own.
About Red Shoes and the Seven Dwarfs Movie:
This outrageous fairy tale spoof starts as Snow White steals a pair of red shoes that transform her into a princess. Meanwhile, a witch's curse turns seven brave princes into dwarfs, forcing them to seek out the princess, hoping for a kiss to break their spell. Together, they must face Snow White's wicked stepmother – who will stop at nothing to get her precious shoes back – and, along the way, learn that true beauty lies within!
BLU-RAY / DVD / DIGITAL SPECIAL FEATURES
"The Making of Red Shoes and the Seven Dwarfs" Featurette
"From Storyboard to Animation Featurette
"Start of Something Right" Music Video
"Something So Beautiful" Music Video
Buy your copy here!
Free Movie Printables
Click the image to download the coloring sheet printables + a bonus Mini Apple Pies Recipe (inspired by the film!)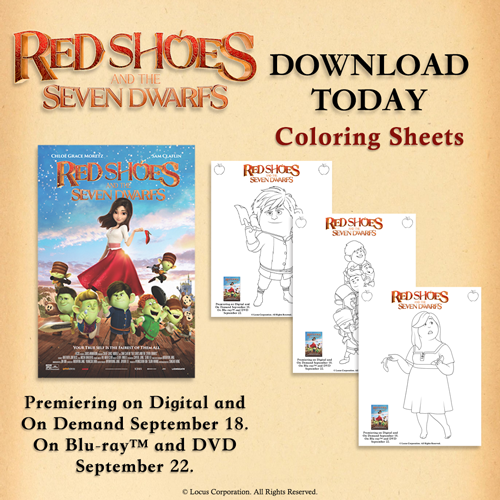 Giveaway Time! (closed)

Enter for your chance to win a Blu-ray of the film!
You Are Also Going to Love: