Host an Early Man movie party this summer! Certified Fresh on Rotten Tomatoes this animated film is the greatest underdog story in prehistory. Follow the story of caveman Dug and his best friend as they fight the mighty enemy – Lord Nooth. We're sharing party ideas from caveman food to Early Man party activities – read on for details!
This is a partnered post. All opinions are my own.
Early Man Movie Party

What you'll need:
A quality portable projector, like this one. The P300 Pico mini projector is great! The set-up is very easy, especially with the USB Plug 'n Play instant set up. We chose to connect the projector to our DVD player using an HDMI cable, but you can connect it to your laptop or phone as well.
Next, you'll want to make sure everyone can hear the movie. This Ion Tailgater comes highly recommended for outdoor movie nights. It's a #1 best-seller on Amazon and offers an amazing 50-hour rechargeable battery life, Bluetooth connectivity, and even includes a microphone.
The projector has a really clear picture, so you can use areas like the garage door, side of your home, or even a DIY white blanket screen for displaying the movie. Another option is purchasing an outdoor movie screen, like thisPop-Up Portable Projection Screen.
Don't forget to pick up your copy of Early Man!
About the film:
From Aardman, the award-winning tribe that brought you Wallace & Gromit, Chicken Run, and Shaun the Sheep Movie, this prehistoric romp tells the epic story of Dug the caveman and his goofy friends who challenge invaders to a game of soccer in order to win back their home. Perfect for the young and young-at-heart alike, the cheerful tale told in charming, well-crafted claymation and stars Oscar®-winner Eddie Redmayne (Best Actor, The Theory of Everything, 2014; Fantastic Beasts and Where to Find Them), Tom Hiddleston (Thor: Ragnarok, Kong: Skull Island), Maisie Williams (TV's "Game of Thrones"), as well as Timothy Spall (Sweeney Todd: The Demon Barber of Fleet Street, Harry Potter Franchise).
Early Man Movie Snacks
Now that you have the outdoor movie set-up squared away, it's time to plan the food! Since the caveman are rabbit hunters, I created these yogurt bowls featuring bunny snacks.
Coconut Yogurt Bowls:
Small coconuts (broken in half for serving bowls)
Yogurt in a variety of flavors
Sliced fruit like strawberries (optional add-in)
Potato Skin Rounds:
Red skin potatoes, sliced
8 oz Shredded cheddar cheese
Bacon Bits or cooked bacon crumbles
1/4 cup melted butter
1/2 cup chopped green onion (optional)
Preheat oven to 400 degrees. Brush both sides of potato slices with butter and place on a cookie sheet with tinfoil. Bake in the oven for 20-35 mins (depending on thickness of the potato slices), turning once. When potatoes are lightly browned, top with cheese, bacon and green onion. Continue baking until cheese has melted.
Early Man Movie Activity Book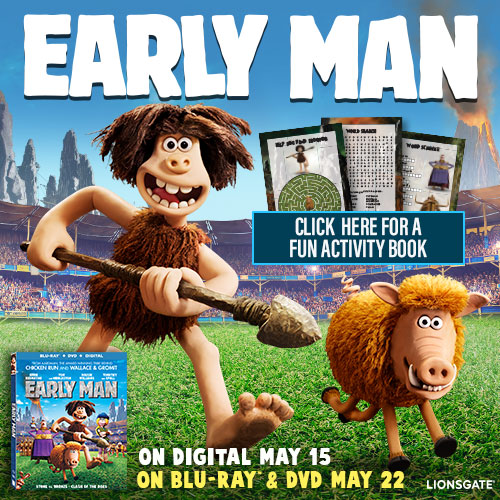 Looking for other outdoor movie night ideas? This Beauty and the Beast party was a huge hit! We even share a recipe for LeFou's Brew – a kid favorite! Check out other outdoor movie party ideas below.
Outdoor movie nights are a great way to get outdoors this summer with friends and family! Our Early Man movie party was a success – and the kids were entertained throughout the entire movie!
You Are Also Going to Love: