The most powerful superhero in the universe lands in stores today!
Grab your copy
of
Captain Marvel on Blu-ray
now! Plus, find out how you can easily make a DIY Hala Star Necklace.
This is a partnered post. All opinions are my own.
About Captain Marvel:
Captain Marvel
 is the first female-led franchise in the ever-growing Marvel Cinematic Universe! A former officer and Air Force test pilot, Carol Danvers becomes the universe's most powerful hero when Earth is caught in the middle of a galactic war between two alien races, the Kree and the Skrulls. Set in the 1990s, she leaves her earthly life behind and joins an intergalactic elite Kree military team called Starforce. With her memory erased, she takes on a new identity as Vers. After training under Yon-Rogg, she finds herself back on Earth with new questions about her past. This film quickly became my favorite female superhero ever! This is definitely a film to add to your at-home collection. See my full review of the film
here
.
DIY Hala Star Necklace
Do you have little ones who are Captain Marvel fans? These adorable Hala Star Necklaces are perfect for them! Click the image below to download the template and create your own. These would make great party favors!
What you'll need:
Gold 8 point star charms (found at local craft store)
Gold or silver chains with clasps
1″ Round hole punch
Printable included below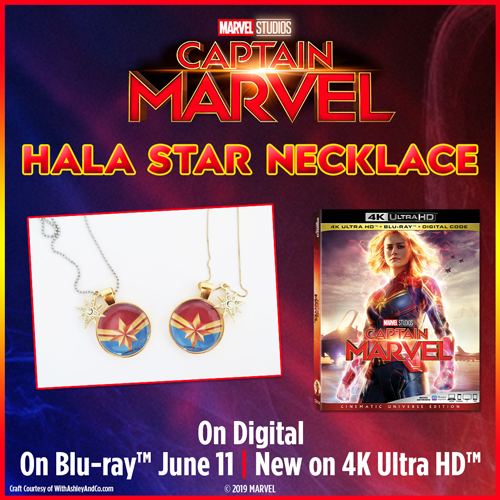 You Are Also Going to Love: