I've teamed up with Melissa from The Mommyhood Chronicles to offer one lucky reader a Dynacraft Shopkins Bike! For any girl or boy who is obsessed with Shopkins – this is the bike for them!
Here's what Melissa mentions about the Dynacraft Shopkins Bicycle:
When we received this bike it was very easy to set up! My husband was gone that day so I had to do it myself which could be a feat in and of itself. It was so seamless though! The bike contains a removable handlebar shopping basket that your little one can load up with Shopkins and take them for a long bike ride. My daughter loves to alternate her Shopkins in the basket because she says every Shopkin needs a ride. Funny girl!
The decorative set up of this bike is second to none. It features a sturdy frame with a colorful designs and Shopkins graphics. Along with the Shopkins theme on the bike itself, the Shopkins graphics are also seen on the padded seat and the hand bars. Seriously Hayley just stares at all her Shopkins and then tries to compare them to the ones on her bike. Also, Hayley wants to use this bike for many years so one of the key features is the seat is height adjustable so it grows with the child.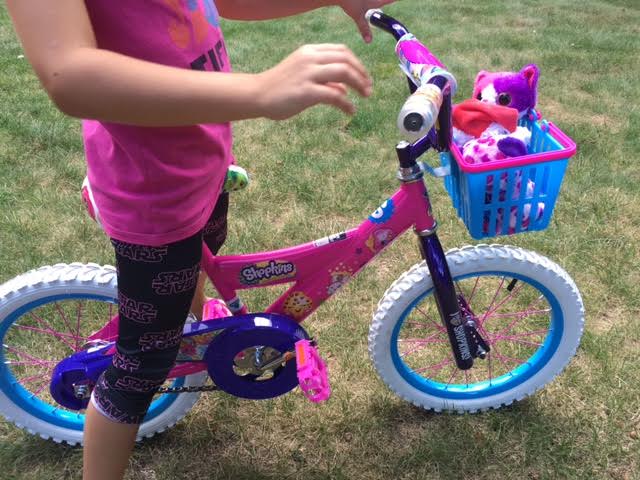 This bike at 16 inches is the perfect size for Hayley. Being almost 8, she loves to put on her helmet and take the bike cruising down the street. I love that the bike features a rear coaster brake which provides smooth stopping power. If your child is just learning how to ride a bike, the wide training wheels add stability and are removable for when she's ready to take them off. We never started with the training wheels (since Hayley can ride independently) but for those starting to learn, the training wheels are included.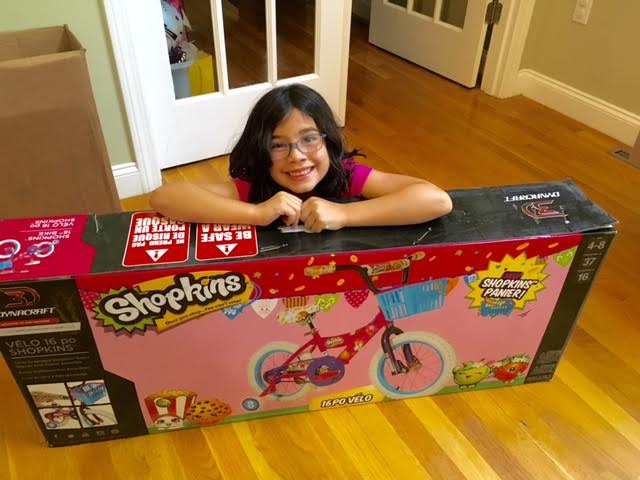 This bike is SO MUCH FUN! Hayley takes it for a ride almost every single day after school and invites her friends over to check out the bike. It is ideal for girls/boys 4- 8 years of age but quite honestly my almost 8 year old, has some more years to go on this bike since she is short. It fits her perfectly right now and she even has some room to grow with the bike.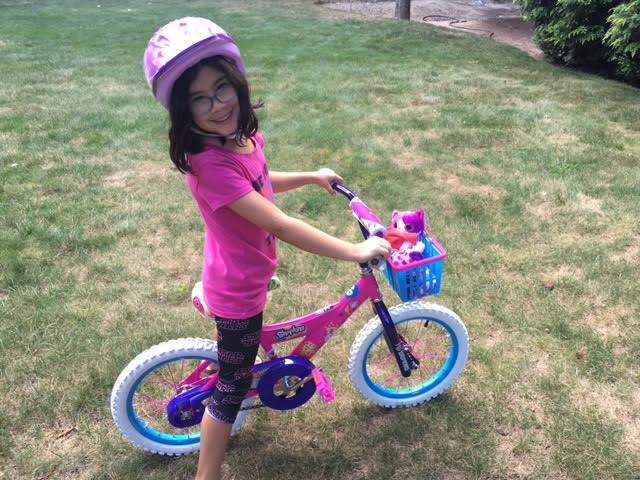 The holiday season is coming up so now is the time to check out the Dynacraft Shopkins Bikes. You can buy this bike exclusively at Toys R Us and for under $100, it is a true steal if you ask me!
GIVEAWAY: One winner will receive the Dynacraft Shopkins Bike. The only mandatory entry is to tell me which Dynacraft item is your favorite in the comment section preceding the post. While the other entries are optional, I highly suggest filling them out to increase your chances of winning. US only. Good luck!
Do you have a little one who's crazy for Shopkins?